MUDGEE'S ONLY DIVE CENTRE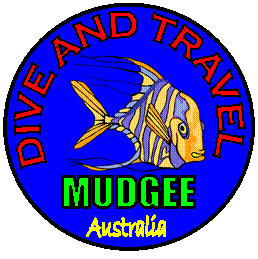 * MY SELECTION OF BOOKS and REFERENCE MATERIALS
We accept all major credit cards


Below is a selection of some of the books I own and have read and therefore can recommend. My supplier is Peter Stone, from
Oceans Enterprises
. Peter is a highly experienced diver and gifted author. His website is an excellent source of books in and long out, of print! Oceans Enterprises have over 400 titles in stock covering every aspect of the marine world (including the human and man-made) and history. A real must see catalogue of books.
CAVE DIVING
THE DARKNESS BECKONS. Martyn Farr.
'The History and Development of Cave Diving'. 2nd edition. Covering the international scene with quite a lot on Britain and Ireland. I loved reading this book - it is amazing, how much we owe to these early pioneers of diving especially with the development of dive equipment. The equipment they used, however, is mind-boggling. Australia gets a mention with the Nullarbor Caves (Pannikin Plains and Weebubbie), and Mount Gambier. Also systems in Zimbabwe, New Zealand, USA, Mexico, Southern Africa and Europe are also described.
BEYOND THE DEEP W. Stone, B. Am Enden, with M. Paulsen.
The Deadly Descent Into the World's Most Treacherous Cave.
This is a great read. As a cave diver, it is one of my favourites in this area. The Huautla Cave in Mexico is perhaps the deepest system in the world. Shafts reach down to enormous depths, with huge stadium-sized caverns. Stone and Enden lead a 44-member team into the sinkhole at Sotano de San Augustin. The first camp was almost 800m below ground level. The second camp was at the junction of two subterranean rivers. Nobody had gone further and survived. Bill Stone and Barabara Am Ende, continued on for eighteen days. An amazing story.

Dr. William (Bill) Stone is the engineer who invented the Cis-Lunar Rebreather, a life-support backpack that allows divers to stay underwater for up to 24 hours. He also partnered the late great Sheck Exley on over 25 dives.

THE CAVE DIVERS. Robert F. Burgess.

"Cave divers are a breed apart - and this is their story - of pushing the limits of technology and human endurance, a journey from pioneering descents into submerged prehistoric caves to the most recent record-setting expeditions". Locations covered include the Bahamas Blue Holes, and deep penetrations in Florida and Mexico. This book will no doubt wet your appetite for diving in this part of the world, whether or not you are into cave diving. Another great book into the psyche of cave divers.




CAVERNS MEASURELESS TO MAN. Sheck Exley.
A truly great book and an amazing but short life. Almost a god-like figure in the recent history of cave diving. Sheck Exley earned his place in the history of diving the hard way. His pioneering achievements with cave diving equipment and techniques, along with his achievements in cave diving, particularly deep, long penetrations, earned him a well deserved reputation as the master cave diver. Exley was largely involved in pioneering cave diver instruction and training.
Unfortunely, he stretched himself too far and lost his life in 1994 whilst attempting to reach a thousand feet - a nice round number he stated before the dive. He made it to 906 feet. His partner for the dive - Jim Bowden, another icon in cave diving, did set the record. Sheck was forty-five years of age and had thirty years experience behind him. As Peter Stone has said, "It is fortunate that Exley wrote this book - like a posthumous autobiography I suppose - as it documents some incredible and hair-raising dives."
Another great Sheck Exley book I have is 'The Taming of the Slough'. I don't know if it is still in print, but Sheck delves into the history of the exploration and mapping of Peacock Springs in Florida - essentially his own backyard. Another excellent book on this genre. He is also the author of 'Basic Cave Diving - A Blue Print For Survival'. This is the very first training manual for cave diving.
THE LAST DIVE. Bernie Chowdhury.
A Father and Son's Fatal Descent into the Ocean's Depths.
This is a sad and tragic story. It tells the tale of a father and son's last, fatal, descent in a quest for knowledge and adventure. Having only been diving a short number of years (along with their wife and mother), this family reached the heights of diving experience and training. Indeed, some of their training was with Sheck Exley. Known quite widely in the cave and wreck diving communities, they were ultimately motivated by the glory of seeking new information on a mysterious U-boat located off the North Carolina coast.

They pushed their physical and emotional psyche to the limit, and paid the ultimate price. But for the grace of God and some good old fashioned luck, many of us could say, "been there, done that", but have survived.
The author, himself an experienced technical diver and a good friend of the men who died is a gifted writer who has managed to capture the sheer horror of the events that unfolded, and seeks to delve deeper into the minds of a family affair that shared a common goal despite constant bickering and soul-searching. A remarkable book and one that will leave you emotionally concerned. There is lessons for everyone to learn in this book - it would also make a great movie!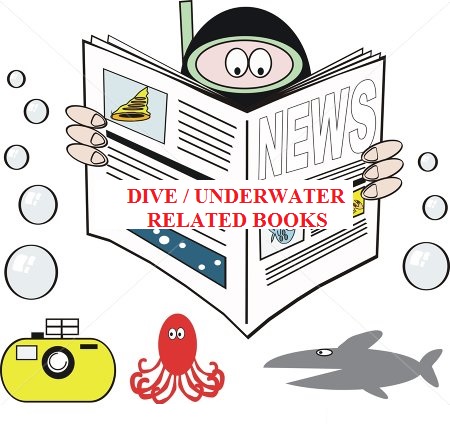 ---
WRECKS and WRECK DIVING
TRUK (CHUUK) LAGOON
If you have dived and fallen in love with the wrecks of Truk Lagoon as much as I have, you can never read enough about the history or the diving on these ships. With almost 60 wrecks to choose from over a relatively small area, there can be no doubt that Truk, along with Bikini Atoll in the Marshall Is are wreck diving mecca's of the world.
GHOST FLEET OF THE TRUK LAGOON. William H. Stewart.

First published in 1986, this is well accepted as an historic text on what happened at Truk Lagoon during World War 2 during Operation Hailstorm. Although there are some underwater photographs, the book is predominantly historic, and covers the Japanese occupation of the islands through to their demise at the hands of the US Navy.

WORLD WAR 2 WRECKS OF THE TRUK LAGOON. Dan E. Bailey.
This is an awesome book and worth every cent of its price tag - and its big and heavy (A4 size and over 500 pages) - I lugged my copy all the way from Truk back to Australia. Peter Stone sums it up perfectly -
"This is a superb book, the finest ever presentation of a war/wreck history that I have ever seen; exceptionally well researched and equally well presented. The book contains four specific sections. Section One covers Truk (or Chuuk as it is now); Section two follows on with the Japanese occupation of the islands. Then we have the extensive coverage of the US air campaign against Truk, Operation Hailstorm predominantly. The final section, over 227 pages, describes no less than fifty-two ship wrecks and five aircraft wrecks in exceptional detail and clarity, complete with site diagrams and photographs."
"Nothing has been spared in the quality of the production, with the use of semi-gloss art paper giving crisp photographs. Where the wreck site extends the boundaries of recreational sport diving, the author recommends advanced technical diving requirements. This book is a must for anyone who has been to Truk, is going to Truk, or is simply interested in the war history of the Pacific. Congratulations Dan, a brilliant book. "That is no exaggeration!
HAILSTORM OVER TRUK Klaus Lindemann.

This superbly detailed book is the definitive work on the wrecks in Truk Lagoon. It covers the history of the huge Japanese naval base, including Operation Hailstorm which resulted in so many ships going to the bottom - to our everlasting gratitude.

Lindemann chronicles events, and describes in impeccable detail each of the ships to the extend that the visiting diver can easily relate to the author's experiences. One of the finest documented war histories available. An absolute must for anyone who has been to Truk, or plans doing so.
Hailstorm - The Dive Guide Also by Klaus Lindemann.
For a diver, this is THE book. It has detailed and accurate sketches, dive plans (depth and skill levels) and interesting features to see on each wreck. I can't recommend this book enough, for anyone planning to dive Truk!
THE PRESIDENT COOLIDGE, VANUATU

The Coolidge is a great wreck dive and its close proximity to Australia ensures its enduring relationship with Australian wreck divers. Along with Truk Lagoon, the Coolidge is well and truly on the 'to do' list for divers who love wrecks. It doesn't hold the lure of so many wrecks elsewhere, especially those sunk during hostilities and still heavily armed or laden with cargo, however, her size and cheap access from Australia is alluring.
Peter Stone from Ocean's Enterprises has written the most definitive book on the Coolidge:
THE LADY AND THE PRESIDENT Peter Stone.
The title The Lady and the President is a reference to one of the major attractions to divers who visit the wreck of the President Coolidge, the 'Lady and the Unicorn', a wall décor in the First Class Smoking Room. Chapters include: The establishment of the Dollar Line and the American President Line; the construction and early travels of the President Coolidge; the establishment of Espiritu Santo as a naval and military base; the loss of the ship at the entrance to the Segond Channel; the inquiry and speculations as to the reasons for her loss; subsequent salvage of the propellers and oil; a description of the ship as she now lies, with special interest to divers; the loss of the destroyer USS Tucker; Million Dollar Point and other local attractions. The book is well illustrated with plans, drawings, and photographs.
SCAPA FLOW - SCOTLAND
I have only recently finished reading these two extraordinary accounts of the sinking or rather scuttling of the German Fleet, by the interned German Navy in June 1919 just prior to the finalising of the peace negotiations to end WW1. The first book is more or less about the internment and scuttling, whilst the second is about the amazing salvage operation which commenced in the early 1920's and was not concluded until after WW2. A number of ships are still left at the bottom of Scapa Flow.
THE GRAND SCUTTLE Dan Van der Vat.

The Sinking of the German Fleet at Scapa Flow in 1919. Van der Vat gives an in-depth account of the loss of the German High Seas Fleet, (over 70 warships) and why so many ships were scuttled by German officers.



FROM JUTLAND TO JUNKYARD. S.C. George.

In 1919, the German High Seas Fleet scuttled seventy-four large war ships and numerous smaller ships at Scapa Flow in the Orkney Islands. From 1924 the great fleet was raised, ship by ship, and scrapped. This book covers the extraordinary story of how the greatest salvage operation of all time was achieved.

---
SELECTED WRECKS OF AUSTRALIA
S.S. YONGALA Townsville's Titanic.
Max Gleeson.

SHIPWRECKS, STORMS AND SEAMEN.
Max Gleeson.
DESTINATION NEVER REACHED
New South Wales Shipwrecks.
Max Gleeson.

THE VANISHED FLEET OF THE SYDNEY COASTLINE.
Max Gleeson.
....
VICTORIA SHIPWRECKS SERIES
Don Love.
All five volume now available.
SHIPWRECKS ON THE EAST GIPPSLAND COAST
SHIPWRECKS ON THE SOUTH GIPPSLAND COAST
SHIPWRECKS AROUND PORT PHILLIP
SHIPWRECKS ON VICTORIA'S WEST COAST
SHIPWRECKS OF PORT PHILLIP
---
DIVE GUIDES OF AUSTRALIA

The FIFTH EDITION of DIVE AUSTRALIA has been released, and is now available. It is a hardcover book of over 1022 pages, with over 500 mono photographs and 16 colour plates.



Tom Byron's guides are considered the definitive Dive Guides to NSW & QLD

Superbly illustrated with authors colour photos, and fine diagrams and maps. Extensive information on wrecks and major dive sites. These are the most detailed dive guides available on north-eastern and central-eastern Australia. Hundreds of dive sites are covered in each book, with sufficient detail to find the sites covered. In most instances, GPS markings are given for dive sites and shipwrecks. Snorkelling and spearfishing areas have not been neglected.
Specific points of interest are noted; for example, unusual terrain such as caves and drop-offs (usually with a diagram), or specific habitats for marine life such as sharks and seals. A dive rating system has been introduced to show the 'difficulty' of each dive. Some are now out of print - hopefully they will be reprinted soon.

SOUTHERN GREAT BARRIER REEF.
Out of Print. Covers the area from Tweed Heads to Great Keppel Islands, and therefore includes Whitsunday Islands, Stradbroke Island, Moreton Island, Maroochydore, Noosa heads, Hervey Bay, Bundaberg, Lady Elliot Island, Heron Island and the Swain Reefs.

CENTRAL GREAT BARRIER REEF.
This covers the locations from Townsville to Mission Beach including the Coral Sea reefs and atolls; Dunk Island, Magnetic Island, the wreck of the Yongala, Flinders Cay.

CAIRNS and NORTHERN GREAT BARRIER REEF.
This covers Port Douglas, Cooktown, Ribbon Reefs, the world famous 'Cod Hole', Lizard Island, far northern Coral Sea reefs, Barrier Reef, the wreck of the historic (and protected) Pandora, and Quetta. Accommodation on land and on live-aboard dive boards is included.

WHITSUNDAY ISLANDS.
Out of print. This covers the Whitsunday Islands in much greater detail than that of the Southern Barrier Reef, and is a must for anyone cruising the islands or staying on one of the land or island resorts. It includes dive sites and shipwrecks, accommodation, details on the islands of Hamilton, Hayman, Daydream, South Molle, Hook, Long and Brampton, and details on the coastal towns.

NEW SOUTH WALES NORTH COAST.
Covers the region from North Head (Port Jackson) to Byron Bay , with every known shipwreck and hundreds of dive sites covered. Includes CD Rom with video clips, wrecks, photos.

NEW SOUTH WALES SOUTH COAST.
Covers from South Head (Port Jackson) down to Eden and Green Cape with sixty-four shipwrecks mentioned, and special sites where grey nurse sharks are guaranteed.
Includes CD Rom with video clips, wrecks, photos.
JERVIS BAY.
Out of print.
Jervis Bay is one of the most popular regions for temperate water diving on the east coast of Australia, and has a number of excellent dive sites within the bay, heads and open coast. Includes CD-ROM
Click the pic above to go to Oceans Enterprises Home Page
---
MARINE LIFE
COLEMAN'S WORLD OF WATER:
Neville Coleman OAM 1938 – 2012
On the 5th of May 2012 Neville Coleman OAM peacefully passed away. We'll always remember Neville as a great underwater explorer and naturalist who dedicated his life to the World of Water. He leaves a great empty space in the diving community.

Neville Coleman Legacy Initiative

"The future of the World of Water depends entirely on us. Unless we accept the responsibility and endeavour to change our attitudes towards its welfare today, the children of tomorrow will only mirror our ignorance. They deserve a better inheritance – after all, they have to live with and attempt to correct our mistakes. They can only do this if we give them a legacy worthy of their belief."
N. Coleman

Neville Coleman was a living legend and a pioneer of ocean exploration. He has left the world richer from his discoveries and has created a unique visual legacy for future generations to treasure.
Click here to visit Neville Coleman's website to view all his books and for a wealth of further information.
Neville was a wonderful man who was always willing to chat and help others. He contributed more to the study and interest in marine life in Australia than perhaps anyone else, especially nudibranchs.
I have read and own copies of many of these books listed here, as well as many others by Neville and can therefore recommend them.
Neville Coleman's Marine Life Guides are a series of books that cover all types of relevant information about the destination and are great lightweight guides for traveling.
All of the guides provide the following type of useful information, in the same well structured format:
A comprehensive marine life guide to the country or local area.
Soft cover, portrait design; around 80 pages, full indexed.
Over 500 full colour photographs
Living examples of over 18 major wildlife groups- from algae to marine mammals.
Simple layout, easy to read text with history, land flora and fauna, reef walking, snorkelling and scuba diving references.
Listed coverage of eco-experience operators.
Basic identification features of all major groups of marine life
Tourism service information page.
Format follows traditional scientific classification and tertiary education teaching systems.
Interactive eco-experience visual identity marker.
Excellent for Project AWARE advance diver specialty courses.
The following are some of the books available in the series:
UNDERWATER NATURALIST


This excellent book is more than a simple 'Asia/Indo-Pacific Marine Life Identification Guide'. It is more of an education course in the marine sciences, providing divers, snorkelers and anyone interested in marine life with the grounding necessary to understand the concepts of taxonomy - the 'classification' of plants and animals. It covers all the major families from algae and sponges and corals and cnidarians to crustacea, the fishes and mammals. Great for Underwater Naturalist Courses. I have found this to be a really useful resource for Marine Studies too. Excellent value, for its content and presentation: hardcover (laminated board covers, landscape format, 96 pages, full colour throughout, glossary, index. A great 'starter kit' for anyone interested in marine life.

DANGEROUS SEA CREATURES
Aquatic Survival Guide, with a comprehensive First Aid Management Section.
Few books can be regarded as a must for all divers - but this is one of them. Not only does it describe the sea animals that may give us some concern, but it shows how to prevent injury, and if that is not successful, to treat an injury. Some of the animals may surprise you as being dangerous - all the more reason to know the environment in which you are diving. Covers the biting animals, the poisoners, the venomous stingers, and other must-know information such as dermatitis and malaria. Exceptionally well laid out with picto-graphs for ease of learning. Perfect for some units of work in Marine Studies, full colour , 96pages.

Oceans Enterprises
The immense variety of categories and the sheer volume of books within each category, are truly mind blowing and Peter Stone even includes copies of rare and long out of print books. Not just marine life, but also wrecks, history, salvage...Click on the pic to view his extensive website and product catalogue.
I have read and own copies of all the books here (as well as many others) and can therefore recommend them.
IKAN MARINE IDENTIFICATION GUIDES

This series of books are outstanding, though not cheap. However, you can see and feel every cent of their value. Many of these books cater for the individual with a more serious interest in marine life.
These superb books by Helmut Debelius and associated writers and photographers are the definitive guides for fishes and marine life, excellently produced in laminated board hard-cover. Debelius is the quintessential ichthyologist, marine naturalist and photographer, and anything with his name is an icon for perfection.
Each title is ideal for identification, with generally three or four full colour photographs on each page. The caption text to each concise, with a general treatise in each order. The production of the books is excellent, and the set would grace any professional library. The books are referenced by the professional marine scientist and the keen sport diver. Helmut visits Australia frequently and collaborates with Australian Rudi Kuiter on many marine projects. Bob Halstead, Ralf Hennemann and Mark Norman have also authored excellent titles within the series.
Each copy ....... $76.00, (unless otherwise stated)
WORLD ATLAS OF MARINE FISHES

Helmut Debelius and Rudie H. Kuiter. Hardcover, laminated boards, just under A4 size, 720 pages full colour throughout, general contents list, scientific species name index.
NUDIBRANCHS OF THE WORLD
Rudie H. Kuiter and Helmut Debelius. Hardcover, laminated board covers, large A4 format, 360 pages, index.
INDIAN OCEAN REEF GUIDE
Helmut Debelius
WHALES & DOLPHINS WORLD GUIDE.
Helmut Debelius.
CORAL SEA REEF GUIDE
Bob Halstead
NUDIBRANCHS AND SEA SNAILS of the INDO-PACIFIC
Helmut Debelius.
CEPHALOPODS - A WORLD GUIDE
Octopuses, Argonauts, Cuttlefish, Squid, Nautilus
Mark Norman
SHARKS & RAYS - Elasmobranch Guide of the World.
Ralf M. Hennemann.
CORALS - INDO-PACIFIC FIELD GUIDE
Harry Erhardt & Daniel Knop
CRUSTACEA GUIDE OF THE WORLD
Helmut Debelius
ASIA PACIFIC REEF GUIDE
Helmut Debelius
MARINE LIFE IN AUSTRALIA (and nearby)


AUSTRALIAN MARINE LIFE
The Plants and Animals of Temperate Waters.
Dr. Graham J. Edgar
2nd Edition
I find this one particularly useful for Marine Studies and the Underwater Naturalist Specialty Course. The 544 pages are divided into the five relevant kingdoms, including and the kingdoms representing the plants, animals, fungi, bacteria and the tiny protists.
A Field Guide to CRUSTACEANS OF AUSTRALIAN WATERS
Diana Jones and Gary Morgan. Softcover, 224 pages, full colour, index, scientific and common names, extensive references and glossary. An excellent book.
This is a complete cover of Australia's known crustaceans.
SEA URCHINS of Australia and the Indo-Pacific.
Ashley Miskelly. Full colour throughout, stiff lamented board cover,180 pages, index and glossary.
FLATWORMS - THE WORLD OF POLYCLADS
Leslie Newman & Lester Cannon.
Polyclads - or flatworms, are found throughout the world, with the most colourful being in tropical waters.
Also covers, briefly, the beautiful Christmas Tree, Spirobranchus, and the Feather-duster worms. Quite a superb book. Softcover, large square format, full colour throughout, 98 pages, index of species, references, glossary.
COASTAL FISHES OF SOUTH-EASTERN AUSTRALIA.
Rudie H. Kuiter.
One the finest book on temperate water species produced in Australia. An excellent guide to southern water species and a companion volume to Fishes of the Great Barrier Reef. A must for all divers.






GUIDE TO SEA FISHES OF AUSTRALIA.
Rudie Kuiter.
There are several 'guides' to Australian fishes, but none to compare with this excellent comprehensive reference book which covers some 950 species, all with a colour photograph, most showing the fish it its natural habitat.

The text is brief but informative and each is accompanied by a location map.
The book is standard size, softcover, no less than 430 pages.

MARINE FISHES OF THE GREAT BARRIER REEF AND SOUTH-EAST ASIA.
Gerry Allen.
This is another excellent book illustrated by the marine artist Roger Swainston, and also Jill Ruse. The description of each species is brief and is accompanied by a full colour drawing of the fish. Text is on the left hand page and all illustrations accompanying the text is on the right making it ideal for fish identification.




SEA FISHES OF SOUTHERN AUSTRALIA.
Barry Hutchins.
The most popular of all the fish identification titles ever published in Australia. Many hundreds of superb colour drawings next to a limited text provide the most concise guide to southern species. A must for all serious divers.
REEF FISH IDENTIFICATION - TROPICAL PACIFIC
Gerald Allen, Roger Steene, Paul Humann, Ned Deloach.
Laminated board cover, 480 pages, full colour throughout.

Covers the tropical region right across the Pacific from Indonesia through to French Polynesia, which includes Malaysia, Thailand, Vietnam, Papua New Guinea, Solomon's, New Caledonia, Fiji, Samoa and Tonga - and although not listed, the Micronesian islands also. A superb and most useful publication, particularly as it includes those fishes of the central and western tropical Pacific. Includes separate common name and scientific name indexes.




INDO-PACIFIC CORAL REEF GUIDE.
Dr Gerald Allen & Roger Steene.
A concise yet extremely valuable companion for anyone wishing to identify and understand tropical marine life. Perhaps one of the best marine books produced in Australia, it relates not only to Australian waters, but "from the shores of Hawaii to the Red Sea". This is a really good, comprehensive guide to travel with, as all phylum are represented, extending from tiny marine worms and corals to seabirds and mammals. Softcover, 378, with over 1800 full colour photographs.
TMC SERIES - MARINE IDENTIFICATION GUIDES
ANGELFISHES.
Helmut Debelius, Hiroyuki Tanaka, Rudie Kuiter.
A Comprehensive Guide to Pomacanthidae. In keeping with all TMC publications in this series, this is a superb book with over a thousand colour photograph of eighty-eight species over eight genera. Includes information on habitats, behaviour, colour morphs and hybridisation. A marvellous identification guide and reference text.


BUTTERFLY FISHES, BANNERFISHES AND THEIR RELATIVES
A Comprehensive Guide to Chaeltodontidae and Microcanthidae.
Rudie H. Kuiter.
Over 130 species of butterfly and banner fishes live in tropical seas, some living down at 200m. This comprehensive book is illustrated with several hundred full colour photographs, with many species photos published for the first time. Includes introduction to genera and subgenera, information on behaviour, habitats and hybridisation. Printed hardcover, 208 pages, full colour throughout.




FAIRY AND RAINBOW WRASSE AND THEIR RELATIVES
A Comprehsive Guide to selected Labroids.
Rudie H. Kuiter.
Detailed information on the families, genera and more than one hundred known species. Around 1500 photographs. Hardcover, laminated board covers, 208 pages. Well indexed with common and scientific names.
In the same series as Surgeon Fishes and their Relatives, Seahorses and their Relatives.


SEAHORSES, PIPEFISHES AND THEIR RELATIVES
A Comprehensive Guide to Syngnatbiformes.
Rudie H. Kuiter.
Hardcover, 240 pages, more than 1000 exceptional photographs and lone drawings covering 350 species, the total of known species in the world. Once again Rudie Kuiter has put together a superb reference book. Some of these animals are weird, some exquisitely beautiful, others have unusual mating and gestation behaviour. An excellent reference for the marine biologist, scientist, naturalist and serious amateur diver.


SURGEON FISHES, RABBITFISHES AND THEIR RELATIVES.
A Comprehensive Guide to Acanthuroidei.
Helmut Debelius and Rudie Kuiter.
Another superb book from these two well-known authors, photographers, and ichthyologists. It covers in some detail the families, genera and the more than one hundred known species in the world, illustrated with several hundred superb underwater habitat photographs. Hardcover, 220 pages, full colour throughout.