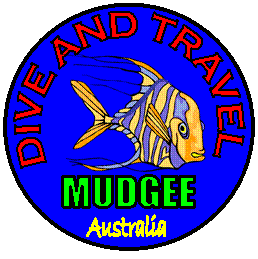 MUDGEE'S ONLY DIVE CENTRE
DRYSUITS
AQUALUNG / WHITES

GRANT'S PRICE - TAKE OFF 10%*
* Some exclusions apply

We accept all major credit cards
FUSION DRYSUIT and
FUSION UNDERGARMENTS
WHITES DIVING

WHY DIVE DRY? - Read the pdf

Whites innovative DryCORE technology offers the ultimate in mobility, warmth, and streamlining. Quite simply, there is no comparable dive suit, wet or dry, that can match the performance of this revolutionary new design.
How it works:
First Layer (DryCORE) is a loose fit shell dry suit incorporating latex seals, dry zipper, air intake and exhaust valves to create the waterproof barrier. Second layer "over suit" made with a durable stretch fabrics is attached to the DryCORE at the wrists, ankles and dry zipper to form the streamline form fit of the inner dry suit.

* FUSION ONE DRYSUIT
* FUSION TECH DRYSUIT
* FUSION BULLET DRYSUIT
* THERMAL FUSION UNDERGARMENT
* FUSION BOOTS
SCROLL down view some of the great YouTube clips from
Whites Manufacturing regarding the Fusion Series of Drysuits.


Click
here
to visit the Whites web page for all the details on the FUSION Drysuit.
Click
here
for the gallery of the FUSION Drysuit features.
Click
here
for all the details on the FUSION Undergarments.
SUMMARY OF WHITE'S DRYSUITS AND ACCESSORIESScroll down for more YouTube vids on White's products and detail on each product.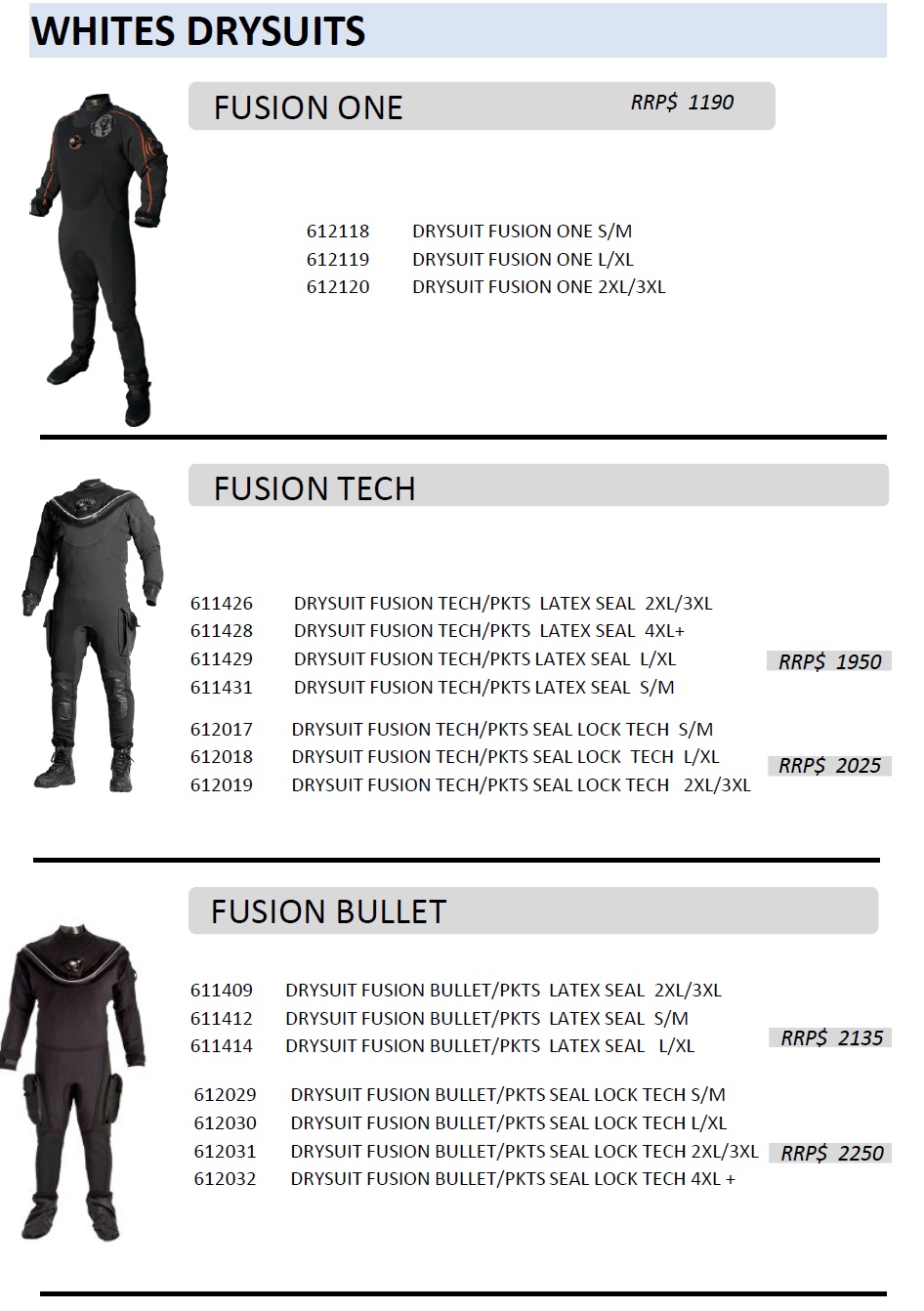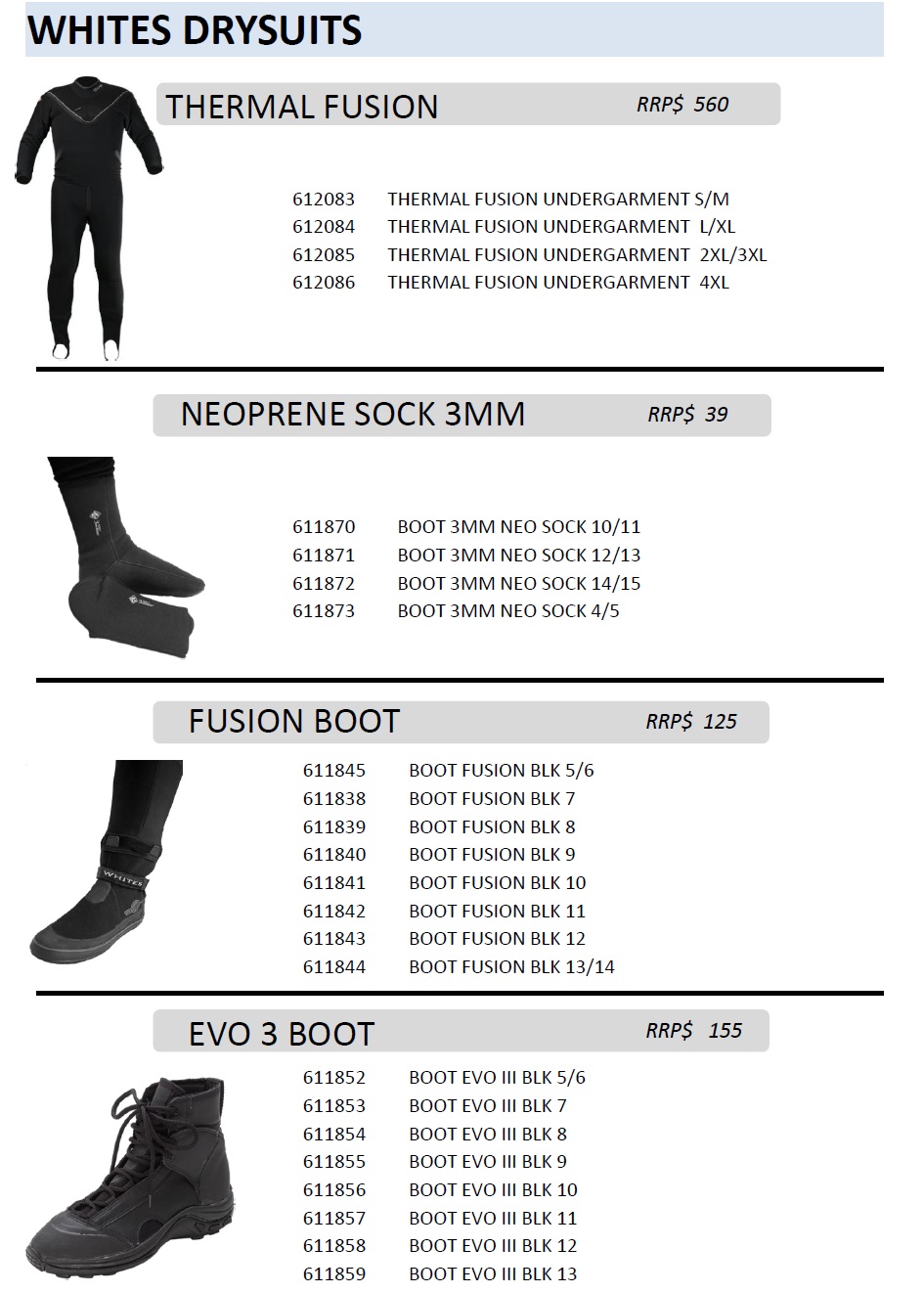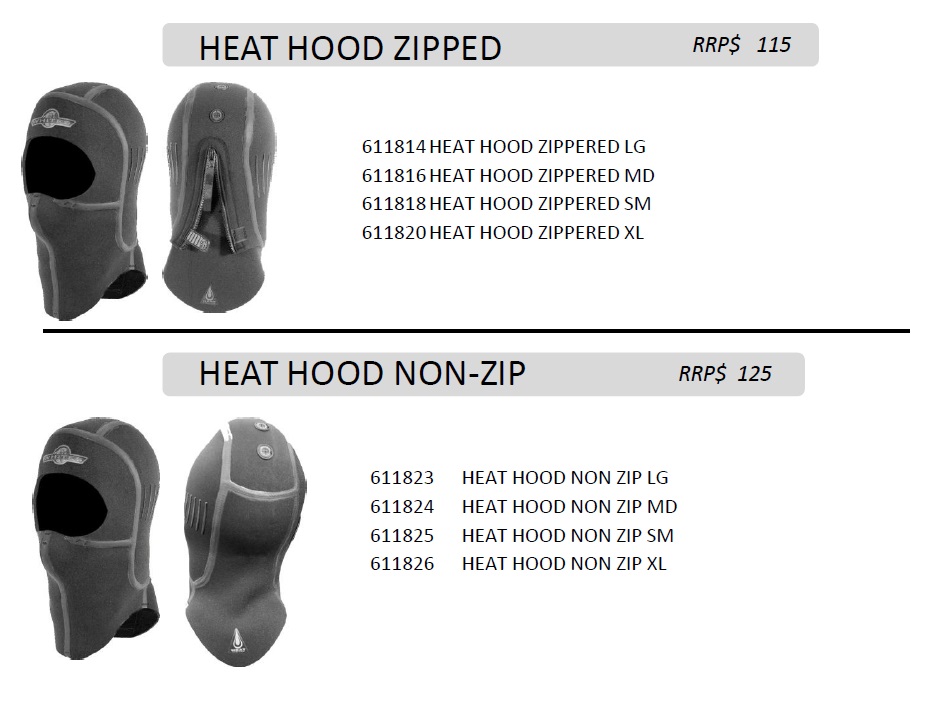 FUSION TECHNOLOGY

The 2 layer DryCORE Advantage

No other dry suit in the world can match the mobility of the Fusion. The internal loose cut DryCORE is held in place by the independent outer stretch skin providing unrestricted movement in your arms, legs, and torso.

DryCORE

Oversized inner DryCORE constructed of military grade, 210 denier bi-laminate, integrates the dry zipper and seals, fits a wide size range, and does not restrict movement.

External Skin

Durable, replaceable exterior skin protects and compresses the DryCORE but does not restrict movement.

Drycore technology provides 7 unique benefits that no other dry suit can match

Flexibility - OVERSIZED inner DryCORE combined with the stretchy outer skin allows unrivaled mobility.
Fits better than custom - Exterior skin streamlines the DryCORE to the divers body providing a custom fit.
Dives like a wetsuit - Exterior compression skin eliminates "bubble" transfer throughout the suit by distributing the air evenly.
5 Sizes - DryCORE technology allows 5 sizes to fit virtually any diver.
Modular Diving System - Exterior skin can be removed and replaced with different models and designs.
One suit, any environment - Customize your undergarment to your diving environment. The Fusion will stretch or compress to accomodate.
Durability - Inner DryCORE manufactured with military grade bi-laminate material is protected from abrasion by the exterior skin. Replace the skin, not the suit!

FUSION ONE DRYSUIT

THE UNCOLD STORY

Fusion ONE changes everything. It's the first Drysuit to offer Fusion DryCORE warmth, flexibility, and comfort for under a grand. It's the perfect option for divers who want the comfort of a Drysuit at a price that won't break their budget.

FEATURES

Matching Apeks valves
Rear entry zipper
Abrasion resistance in high wear areas and heavy duty
Lycra panels in high stretch areas.
This optimal combination creates the perfect marriage of mobility and durability.
All seams flat locked sewn for stretch and durability.
Gatortech knees provide excellent abrasion resistance.
Basic suspender system included
Comes with traveller drawstring bag, inflator hose and zipper wax.

The ONE Skin is designed with 1 mm neoprene for added abrasion resistance in high wear areas and heavy duty Lycra panels in high stretch areas. This optimal combination creates the perfect marriage of mobility and durability. The ONE Skin attaches and removes easily from the DryCore via Velcro fasteners at the wrists, ankles and zipper.

Sizes 2XS/XS, S/M, L/XL, 2XL/3XL, 4XL+

Colours Black, orange


RRP: $1190

FUSION TECH DRYSUIT

| | | | |
| --- | --- | --- | --- |
| | | | |
| Tech skin features rugged 1 mm neoprene and HD-lycra construction. | Heavy duty brass YKK dry zipper. | Drawstring bag, zipper wax and inflator hose included. | Deluxe suspender system with thermo formed back pad included. |




Take your diving to the next level with the Fusion Tech. The Tech skin incorporates 1mm neoprene in high wear areas providing durability, while strategically placed lycra stretch panels provide incredible flexibility.

FEATURES

Sizes 2XS/XS, S/M, L/XL, 2XL/3XL, 4XL+

Colours Solid black

RRP: $1950
$2025 (SLT)


* Scroll down for details.

FUSION BULLET DRYSUIT

| | | | |
| --- | --- | --- | --- |
| | | | |
| Abrasion resistant Gator Tech knees, buttocks, shoulders, and elbows. | Expandable Twin-Zip pockets. | Drawstring bag, zipper wax and inflator hose included. | Deluxe suspender system with thermo formed back pad included. |




Originally designed for the Special Forces, the Fusion Bullet is engineered for the harshest diving environments. Super stretch neoprene allows ultimate flexibility and streamlining while strategically placed Gator Tech armour and reinforced seams ensure maximum durability.

FEATURES

Bullet seams are mauser taped and 6 thread sewn for maximum stretch and durability.
Includes 2 Twin-Zip expandable pockets.
Rugged Gator Tech neoprene on the knees, elbows, shoulders and buttocks extends the life of the skin for use in the most extreme dive conditions.
Removable 2mm neoprene inserts at the elbows and knees provide cushioning.
Super stretch neoprene provides extreme stretch for maximum flexibility.
Comes with traveller drawstring bag, inflator hose and zipper wax.

Sizes 2XS/XS, S/M, L/XL, 2XL/3XL, 4XL+

Colours Solid black, black with a red top or black with blue top

RRP: $2135
$2250 (SLT)

* Scroll down for details.

SLT - SEAL LOCK TECHNOLOGY
- worth every cent to have!!!!!

We've all been there suited up, looking forward to the dive and suddenly a torn neck seal or worn out wrist seal. The choice: an uncomfortable (wet) dive or, cancel the dive until repairs can be made.



With Whites Seal Lock Technology the fix is simple. Seal-Lock Technology (SLT), is a modular seal replacement system that incorporates a neck ring retainer and compression fit wrist seals.
Simple, innovative, and convenient, SLT enables quick and easy change out of worn or torn seals in the field and best of all, anyone can do it.
SLT features all new silicone neck and wrist seals and is a must-have option on any White's Fusion dry suit.

SILICONE SEALS

The SLT system has the added benefit of allowing the use of all new Silicone neck and wrist seals. Silicone seals offer many unique benefits to the Dry Suit diver:

Incredibly stretchable
No latex allergy
100% UV and Ozone resistant
No maintenance
Low friction
Puncture resistant







Wrist Seal Neck Seal

Compatible with dry gloves or wet gloves.

PRODUCT OPTIONS
Relief Systems

The Fusion may be ordered as a Made to Order drysuit with your choice between 2 urinal dump valves: the SiTech mini urinal dump valve and the Ultra low profile dump valve. Both urinal dump valves are balanced and allow the user to open and close the exterior valve; please indicate side preference when ordering.

Urinal Dump Valve Q & A

Urinal Dump Valves, also called Pee Valves allow divers to urinate while underwater.
The Valve is attached to the drysuit; the tube from the valve is attached to the diver via a condom catheter.
Condom Catheters can be purchased at medical supply stores.
Balanced Pee Valves allow the pressure inside the tube to be equalized as the diver descends.
One way valves in the valve or tube prevent water from backing up into the tube.
Most valves have a lock and unlocked position as an additional measure in case the one way valve fails.


Features for the Ultra low profile dump valve

Low Profile one way valve (check valve ensures no water entry)
Balanced valve ensures tube is equalized with drysuit pressure
Valve can be unscrewed to urinate
Primarily for use underwater
Installed as a Made To Order option on new drysuits
Condom catheter not included (can be purchased at medical supply stores)
Please indicate side preference

SiTech mini urinal dump valve




Relief Zippers

10" relief zippers are available as an optional accessory on Made to Order Fusion Drysuits.
Relief Zipper

Pockets*

Bellows style pocket for maximum capacity.
New 11" x 6" pocket size to meet technical standards
Drain outlet for proper waterflow.
Expanding lock stitch and 1mm neoprene ensures no loss of mobility.
2 grommets for bungee cord attachment.
Velcro enclosure and pull tab for easy entry and closure.

*Not available on the Sport skin

Permanent Dry Rings

Dry hands not only keep your hands dry and warm, but they also improve dexterity! Made to Order Fusion drysuits are available with Permanent wrist rings. A removable dry wrist ring system is also available.

Permanent Wrist Rings

The Permanent wrist rings can be used in conjunction with our Blue Commercial Dry Glove Clamp System

Removable Wrist Rings

Glove Rings and Gloves

FUSION BOOTS

Whites Manufacturing has just released a new set of Patented Fusion Boots! With the launch of the Whites Fusion, many divers have been seeking a lower profile, lighter-weight, travel-friendly boot. These new boots allow the user to select their size, attach the boot to their Fusion, and leave it attached for countless dives!

This new design allows users to slip their foot in and out of the drysuit sock without having to remove the boot from the sock. The new design offers the following:

Low-profile - users will not need new fins
Easy to don and doff
Incredibly light-weight
Allow more air into the feet for better warmth
Fin Keeper for proper fin placement
Streamlined design is perfect for the Fusion

Sizes

5/6, 7, 8, 9, 10, 11, 12,13/14




RRP: $125

EVO 3 BOOTS
RRP: $155





The EVO3 boot was designed in conjunction with the military for use on wet, slippery decks, finning for swimming and running on wet rocky shores.

Features

Heavy duty dual layered sole with multi-directional traction lugs.
Reinforced padded ankle support.
Drainage ports.
Heel pull tab.
Reinforced toe and heel.

Sizes

5/6, 7, 8, 9, 10, 11, 12,13

Neoprene vs. Polytex Seals

"All Fusion drysuits come with Polytex seals, however, Made to Order Fusion Drysuits may be ordered with neoprene neck and /or wrist seals

THERMAL FUSION UNDERGARMENT





Thermal Fusion, a high performance diving undergarment, maximizes warmth, and provides unrivalled flexibility and fit.



Designed by divers, the Thermal Fusion was rigorously tested by professionals to ensure the highest level of comfort and warmth.



Proven by science

, independent laboratory tests by the Sport Innovation Centre (SPIN) validate the superior insulation value of the Thermal Fusion. Cold water immersion and controlled cold weather environmental tests determined effectiveness in protecting skin and core temperatures.

Comparative testing against our competitor's top rated undergarment confirms superiority. The science proves that the Thermal Fusion performed best overall in preventing heat loss in extreme environments.


DESIGNED BY DIVERS PROVEN BY SCIENCE



RRP: $560

THERMAL FUSION

The Thermal Core

Patent pending Thermal Core Technology is a unique, dual layer design, that allows the diver an unlimited range of motion, with a streamlined fit.

The first layer, a loose cut thermal core constructed of

Polartec 200 fleece

, fits a wide size range and does not restrict mobility.

The second, outer layer, is a

Polartec Power Stretch Pro

compression skin which streamlines the inner core to the divers body, provides a custom fit, and allows maximum range of motion.

The Polartec Power Stretch Pro compression skin, combined with Whites unique ATS (Air Transfer System) minimizes buoyancy, while allowing incredibly efficient air venting out of the suit.

Thermal Core Technology is at the heart of the thermal Fusion, resulting in an undergarment that is unmatched in flexibility, fit and warmth.


Thermal Fusion (Undergarment) Size Chart

| | | | | | |
| --- | --- | --- | --- | --- | --- |
| Unisex Size Chart | 2XS/XS | S/M | L/XL | 2XL/3XL | 4XL+ |
| Height | 5'1" - 5'5" | 5'5" - 5'9" | 5'9" - 6'1" | 6'0" - 6'4" | 6'0" - 6'10" |
| Weight | 90 - 130lbs | 120 - 170lbs | 160 - 210lbs | 200 - 250lbs | 230 - 350lbs |
| Chest | 30" - 37" | 35" - 41" | 39" - 45" | 43" - 49" | 45" - 58" |
| Waist | 22" - 31" | 27" - 36" | 31" - 40" | 35" - 44" | 41" - 58" |
| Buttocks | 27" - 36" | 32" - 41" | 36" - 45" | 40" - 49" | 46" - 58" |
| Crotch To Floor | 26" - 29" | 29" - 32" | 30" - 33" | 32" - 35" | 33" - 38" |

Heat Non-Zippered
Drysuit Hood

Loaded with innovative features, the HEAT Series Hoods are the ultimate in neoprene dry suit hoods.

Features

7mm neoprene side panels, 5mm forehead, and 5mm chin offers extra warmth & supreme comfort.
Centre panels are made from double-layered 3mm titanium neoprene with moulded vent valves to release trapped air from within the hood.
Seams are glued, blind-stitched, and seam sealed.
Grip Strips located at hood side prevent mask strap from slipping.
Ergonomically designed collar conforms to your neck for maximum coverage and mobility.

Sizes S, M, L, XL







RRP: $125


Heat Zippered Drysuit hood

Loaded with innovative features, the HEAT Series Hoods are the ultimate in neoprene dry suit hoods.

Features

7mm neoprene side panels, 5mm forehead, and 3mm chin offers optimum warmth, supreme comfort while eliminating jaw fatigue.
Zipper with sealing gusset and Velcro tab at zip base allows easy donning and doffing.
Centre panels are made from double-layered 3mm titanium neoprene with moulded vent valves to release trapped air from within the hood.
Seams are glued, blind-stitched, and seam sealed.
Grip Strips located at hood side prevent mask strap from slipping.
Ergonomically designed collar conforms to your neck for maximum coverage and mobility.

Sizes S, M, L, XL